Adrian on BBC Coventry and Warwickshire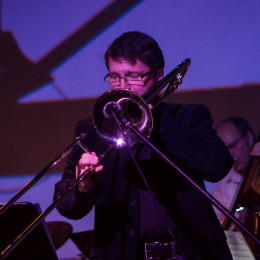 I've been in to the Priory Place studio of BBC Coventry and Warwickshire today to talk about our Interplay Duo gig at Wilde's tomorrow night. This will feature me and Richard Baker (trombone) exploring more of those gorgeous low frequency tonalities.
The invitation came from Marian McNamee – just after I said that mainstream radio didn't show much interest in the regional jazz scene! Marian presents the Sunday afternoon show from 1.00 – 3.00pm.
This looks like being a good outlet for local music information from here on, and of course we will make sure that Marian has all the information she could need in future.
If you'd like to hear the broadcast it runs from about 8.00 minutes in, duration 14 minutes approximately. You can also hear 'Swift Return' – enjoy!