Dave Balen meets tabla master Zakir Hussain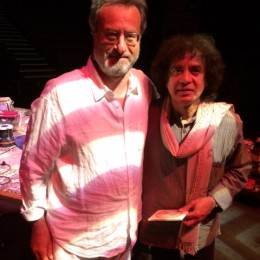 Dave met the great tabla master (and one of his heroes)  Zakir Hussain at the Oleron Jazz Festival in France.
Dave says
"It was a great display of musicianship last night at the Oloron Jazz festival. Zakir was playing in duo with Oud player and vocalist Dhafer Yousef. He was very nice, I gave him a copy of our album Global as a thank you for all the pleasure his playing has given me over the years. I was embarrassed to say that I played a little tabla on one of the tracks. He joked that he played a little tabla too…
I was very struck by how Zakir had integrated extra tablas, little tuned drums and percussion into his playing last night so it was very varied and interesting. Tablas plus. The technique as ever was formidable and impeccable, but his adaptability to the different musical environments ( so many) he plays in always impresses me.
I mentioned that I was fortunate to meet and do a few classes with his
 dad the great Ustad Alla Rakha, best known I suppose for 30 years accompanying Ravi Shankar. It surprised him to meet an aging muso at a concert in Oloron who knew his dad! Alla Rakha flew the flag for the tablas in the west and taught Zakir from a very early age.  For this and all his other many achievements I and many others are eternally grateful."