Interplay album launched – and how!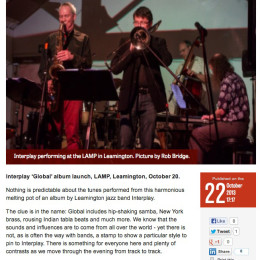 Sunday evening was a really memorable night for Interplay, as a lively crowd of music fans, friends, music scene movers and the simply curious packed into LAMP, Leamington's Live Arts and Music Project, to share in the launch of the band's new album 'Global'. Steve Steinhaus was in the compere's chair to move proceedings along and the band got swiftly down to business with the Cuban classic 'Amor Verdadero'. After a reflective 'Hermitage' it was time for the first of the night's original compositions, 'Autumn Magic', followed by an outstanding version of 'Weightless' featuring Alan Wakeman on soprano sax and Dave Balen in exceptional form on tablas. 'Fashion Statement' made for a complete mood shift, calling up some fine trombone from Richard Baker, before the band wrapped the set up with their north African-tinged version of 'Imam'.
For the second half opener 'El Cuarto de Tula' the entire audience was equipped with hand percussion, leading to a riotous rendition. 'Shapeshift' followed, with Neil Hunter building an exciting extended keyboard solo supported by the whole band.  We then welcomed saxophonists Ray Hinks and Onno van Winden to sit in on 'Su Baille Nuevo', producing a spirited four-horn improvisation. 'Slow Flame', the evening's deep ballad, really seemed to draw everyone in before 'Swift Return' and 'The Shuffle' brought the night to a celebratory climax.
Thanks to everyone who helped to make the evening such a success! To the 100 or so souls who packed the venue and responded to our music with such warmth and enthusiasm, to all those who bought albums – over 40 were sold – and to all those who signed up to our mailing list. Not forgetting the crew at LAMP, Steve Steinhaus for mastering the ceremony, Rob Bridge our brilliant photographer, our lovely crew of helpers on the night, and all those nearest and dearest to the band who support us with their encouragement, patience and understanding. Without you all it could not happen!
And to top it off there is a cracking review of the night and the album by Sundari Cleal of the Leamington Courier. Please check it out, and of course add any comments of your own – we'd love to have your feedback too!