Interplay at Leam Jazz
Price: £8.00
Date: Wed, Jan 20, 2016
Time: 8:00 pm - 11:00 pm
Venue: Leamington Rugby Football Club
Location: Moorefields, Kenilworth Road, Leamington Spa CV32 6RG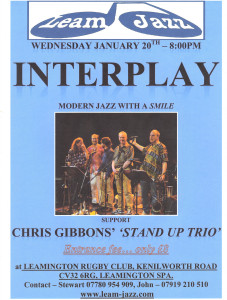 Back in the Leamington home of Rugby after an absence of almost four years. Interplay appears courtesy of Leam Jazz, now in its sixth year at Leamington Rugby Football Club. Congratulations to John, Stewart and Rob for keeping it going and for putting on some fine music. We're glad to be back.
Also on the bill – ace guitarist Chris Gibbons with his all new Stand Up Trio!
And it's all for the supremely modest price of £8! No advance bookings, but further details from 07780 954 909.